Our Curriculum
At this stage in your child's development, forcing facts upon them in the wrong environment can do more harm than good. It can turn a dreamer into a realist far too soon.
So we make learning fun at our school. We teach valuable lessons through games, music, art and make-believe. Because we know learning should be a wonderful adventure, not a grueling competition. And for education to take place in the beginning of a young life, it should be as natural and enjoyable as play.
To the untrained eye, our learning centers look more like play areas than places to gain knowledge. Some might see our sand tables as nothing more than a place for a kid to make a mess. But to the fertile young mind, a sand table can be the foundation for a skyscraper or a field for planting next season's crop of jelly beans.
We believe a child learns best by doing, not by watching something being done. They need to explore and experiment with their own mind and hands at their own pace. And they need the support, guidance, and encouragement of someone who respects them, so they can learn to respect themselves.
We don't teach children to always have an answer. Instead, we teach them to be motivated to always have another question. The result is a self-confident, naturally curious child who has developed a love for learning. And that will last a lifetime.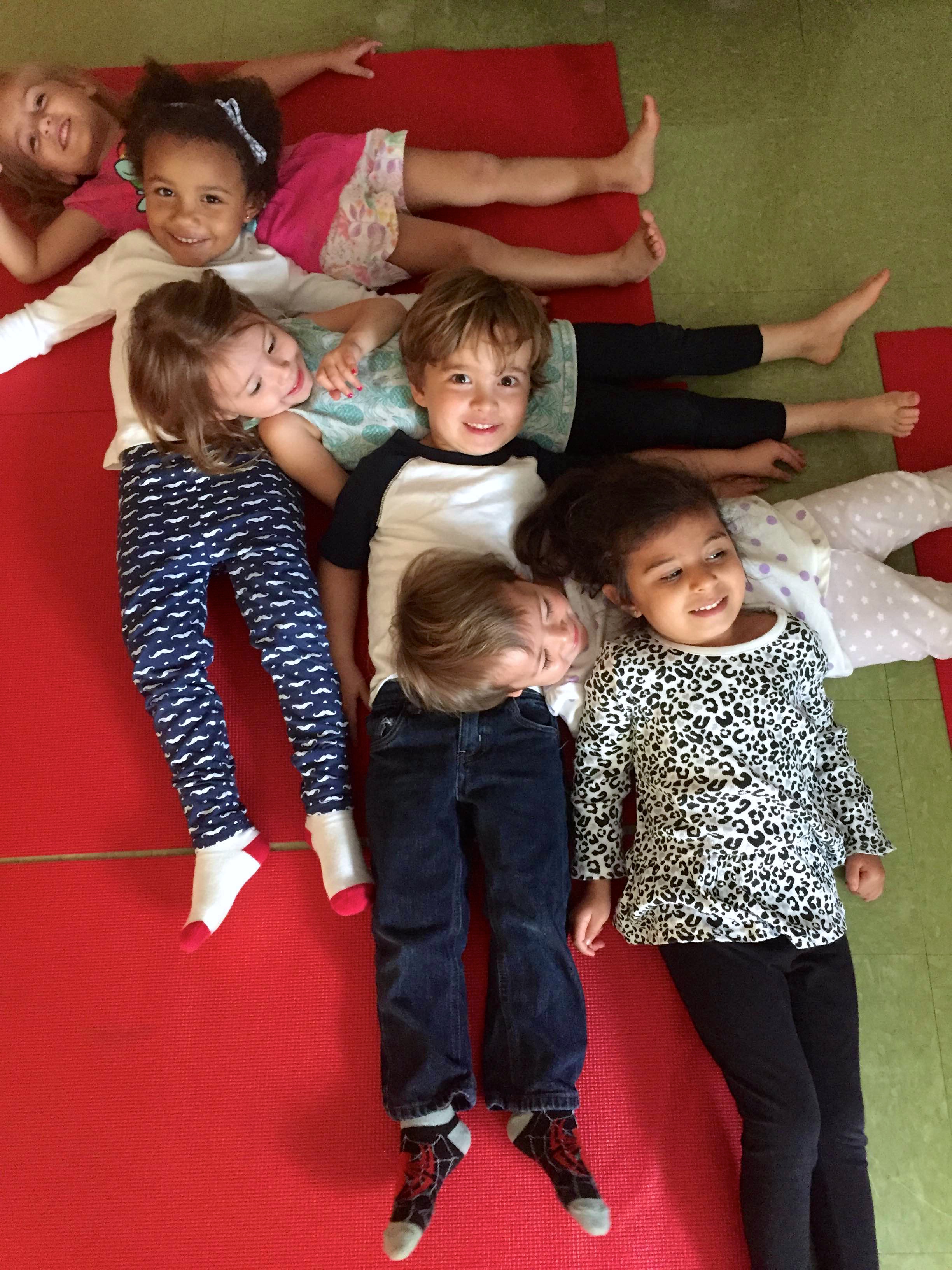 Supplemental Programs
Harmony continues to find the best specialists to supplement our own curriculum. Parents are under no obligation to subscribe to these programs, but they are a time saver if you were already going to enrich your child's learning by taking them for various lessons and trainings after hours. They are:
AMAZING ATHLETES
Each class focuses on two different sports and one area of motor development. Also incorporated into each class are activities designed to improved the young child's hand-eye coordination, muscle tone, flexibility, and cardiovascular fitness. Amazing Athletes is offered at Harmony in the Spring, Summer and Fall.
BALLET
Our ballet students walk to Princeton Dance Theater and Studio, our neighbors in Forrestal Village! In addition to learning the fundamentals of dance, PDT's ballet classes also teach students the value of hard work, attentiveness and respect - skills that will serve them well beyond the dance studio. Ballet is offered at Harmony in the Summer months only.
CHESS
Mr. Andy teaches Chess to our Kindergarten class each week. Learning to play chess at a young age has been proven to help develop spatial imagination, abstract thinking, and concrete problem solving skills. Our Kindergarten students love playing chess so much, they ask to practice during the week between Mr. Andy's classes. Chess is offered at Harmony year round!
COOKING
Ms. Gail focuses on themes of safety, knowledge of the food pyramid and healthy eating habits while creating kid friendly recipes that get children excited about helping out in the kitchen. Children are much more inclined to try different foods if they are involved in the process of preparing a meal themselves! Cooking class is offered at Harmony year round!
LITTLE RHYTHMS MUSIC
This class introduces musical concepts such as dynamics, tempo, pitch, note values, rhythm patterns, the musical alphabet, music notation and much more while reinforcing critical developmental abilities including language development, social skills, listening skills, problem-solving, and gross and fine motor skills. Music class is offered at Harmony year round!
SOCCER SHOTS
Soccer Shots offers a high energy, fun, age-appropriate introduction to soccer. Their curriculum emphasizes both soccer skills and character development. The goal is simple: to leave a lasting, positive impact on every child. Soccer is offered at Harmony in the Spring, Summer and Fall.
STEAM Works Studio
This year, Harmony is taking advantage of the STEAM Works Studio nearby to us in Forrestal Village! STEAM offers hands on building and programming projects that introduce Science, Technology, Engineering, Art & Math concepts in a fun setting. Students gain exposure to robotics, sensors, and basic programming through STEAM's lessons. We have planned periodic trips up to STEAM throughout the year.
SWIM
Harmony works with Five Star Swimming School to offer swim lessons to our students that are a convenient walk away! Five Star's swim program aims to produce happy, skilled and safer swimmers while instilling a love for the water. Building confidence and self-esteem throughout each session is an important goal of the program. Swim is offered at Harmony in the Spring, Summer and Fall.
TENNIS
Children who are signed up for tennis ride the bus to Winning Touch Tennis, which is right down the road from us at Harmony! Winning Touch uses an age appropriate USTA curriculum to make tennis accessible and fun for our children. There is a focus on hand eye coordination in addition to learning the rules and skills required to play an actual tennis match. Tennis is offered at Harmony year round!
TUMBLEBUS
Tumblebus is a gym on wheels, filled with fun equipment, bringing the best possible physical education class to children. The program builds self-esteem in children as they accomplish each physical skill in the lesson plan. Tumblebus is offered at Harmony year round!
YOGA
Every yoga class contains 5 components: connect, breath, move, focus, and relax. These elements are addressed through a variety of sequences and activities, that are adapted to adjust each child's developmental level. The curriculum strives to improve physical, mental, and emotional health, helping children to develop their ability to focus and concentrate. Yoga is offered at Harmony year round!